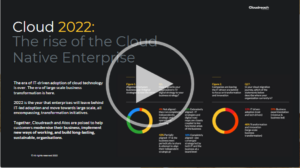 Cloud First, Then Coffee! – Cloud 2022: The Rise of the Cloud Native Enterprise
Das Jahr des Cloud Native Enterprise
2022 ist das Jahr, in dem Unternehmen die Ära der IT-getriebenen Cloud-Einführung hinter sich lassen und in der Cloud mit verschiedenen Geschäftsmodellen experimentieren werden. Es ist auch das Jahr, in dem Unternehmen die Cloud-Adaption hinter sich lassen, die Automatisierung voll und ganz annehmen, mit der Infrastruktur in Richtung Edge voranschreiten, ihren digitalen Quotienten (DQ) erhöhen sowie ihre IT-Technologie de-karbonisieren werden.
Nehmen Sie an diesem Webinar teil, in dem Cloudreach- und AWS-Experten die Erkenntnisse aus einer IDC-Umfrage unter 610 IT-Entscheidungsträgern in Nordamerika und Europa vorstellen.
Wir sehen uns an, wie die Cloud-Migration und -Modernisierung in den sechs wichtigsten Trends sich weiterentwickelt hat, welche eine wichtige Rolle spielen, wenn sich Unternehmen auf dem Weg zu groß angelegten, allumfassenden Transformationsinitiativen durch die weiterentwickelte Cloud bewegen.
Ihr Vorteil?
Sie erhalten wertvolle Daten um Ihren Geschäftsfall für die Cloud-Migration und -Modernisierung besser zu untermauern um die Zustimmung aller Beteiligten sicherzustellen
Erfahren Sie, wie sich die Cloud-Migration und -Modernisierung im Zuge ihrer Marktreife und des verstärkten Einsatzes von Automatisierung und Datennutzung entwickelt hat, um Ihre Geschäftsergebnisse zu verbessern
Erfahren Sie, wie IT-Führungskräfte die wichtigsten Cloud-Trends nutzen können, um groß angelegten Ziele ihrer digitalen Transformation voranzutreiben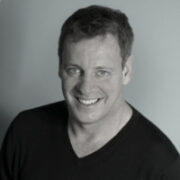 Jez Ward
Executive Cloud Advisor and Head of Advisory
Cloudreach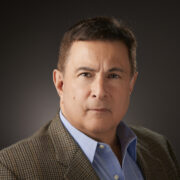 Frank Della Rosa
Research Vice President, SaaS, Business Platforms, and Industry Cloud
IDC
Cloudreach, an Atos company, ist weltweit führender Anbieter von Multi-Cloud Dienstleistungen und global strategischer Partner der Amazon Web Services. Wir haben es uns zum Ziel gemacht die Organisationen unserer Kunden den außergewöhnlichen Mehrwert der Public Cloud mit erfolgreichen Cloud-Transformationsprojekten zu liefern um ihren Wettbewerbsvorteil weiter zu sichern. Mit der Expertise von über 10 Jahren Public Cloud kann Cloudreach auf einen grossen Erfahrungsschatz verschiedener Cloud-Technologien und -Applikations-Know-How zurückgreifen.
Weitere Informationen erfahren Sie hier: www.cloudreach.com