by Ken Oehler and Réka Bakos, Kincentric
On Rethink! HR Tech Europe 2019 Kincentric will give you insights about the latest employee experience trends in their speech "Learning from the Best: Top 5 Lessons from Top Employers on delivering an eXtraordinary Employee eXperience". Find more information about this topic in Kincentrics informative whitepaper.
Eight out of ten (79%) HR and Business leaders believe that a great employee experience (eX) can have positive business impact. Yet, less than a third (28%) have a deliberate approach to effectively design and deliver. These are some key statistics on the interest and state of delivery of eX from Kincentric's 2019 Global Employee eXperience Report. Interest in eX outpaces delivery readiness – but not for long. Lessons from some eXtraordinary organizations provide some insight for companies to close the gaps. We will share insights around what top employers do differently and will give an example of how an organization in the retail industry changed their Employee eXperience for good.
Key Takeaways of the whitepaper:
Gain insight on the latest Employee eXperience trend data
Understand the top 3 drivers of delivering a successful Employee eXperience Strategy
Learn what top employers do differently, with a real case example
Kincentric, a Spencer Stuart company, approaches human capital differently — we help you identify what drives your people so they can drive your business. Formerly a part of Aon, our decades of expertise in culture and engagement, leadership assessment and development, and HR and talent advisory services enable us to help organizations change from the inside. And our global network of colleagues, our proven insights and our intuitive technologies give us new ways to help organizations unlock the power of people and teams — fostering change and accelerating success. For more information, please visit kincentric.com.
Rethink! HR Tech Europe 2019 is the top management platform to discuss the latest technologies and strategies in HR Tech in DACH.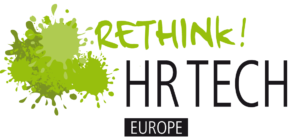 November 28 – 29, 2019 | Maritim proArte Hotel, Berlin